Wim Wenders – Im Lauf der Zeit | Kings of the Road (1976)

Im Lauf der Zeit

|

Kings of the Road

(1976)
Published Oct 24 202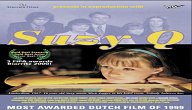 ASA MOVIE CRAZE FOREIGN LANGUAGE WORLD
Director Wim Wenders
Stars Rüdiger Vogler, Hanns Zischler, Lisa Kreuzer
Kings Of The Road (1976)
Original title: Im Lauf der Zeit
Languages: German English
Storyline Near the Eastern borders with West Germany, Bruno, a solitary, permanent citizen of the road and film projection equipment repairman, witnesses the sad sight of a VW beetle car storming straight into the River Elbe. After a while, however, the depressed driver, Robert, instinctively accepts an offer for a lift in Bruno's repair van, and just like that, an impromptu relationship begins. Now, against the backdrop of the German countryside, the new companions find themselves sharing the same need for freedom, visiting dilapidated movie theatres for maintenance, and getting to know each other one small town after another. But, no one knows, or cares, how long is the road that stretches out ahead of them. After all, the only thing that matters is one's commitment to a precious ideal. Have the kings of the road found life's true meaning?
https://de.wikipedia.org/wiki/Im_Lauf_der_Zeit
https://en.wikipedia.org/wiki/Kings_of_the_Road
PDF
Wim Wenders Stiftung – Presse Sheet Im Lauf der Zeit
Reacties
https://ok.ru/video/6667236412102
Wim Wenders – Alice in the Cities | Alice in den Städten (1974)
Wim Wenders – Der Amerikanische Freund | The American Friend (1977)
Meer informatie
https://robscholtemuseum.nl/?s=Wim+Wenders
https://robscholtemuseum.nl/?s=Lisa+Kreuzer
https://robscholtemuseum.nl/?s=Hanns+Zischler
https://robscholtemuseum.nl/?s=Rudolf+Schündler
https://robscholtemuseum.nl/?s=Dieter+Traier
https://robscholtemuseum.nl/?s=Franziska+Stömmer
https://robscholtemuseum.nl/?s=Hark+Bohm
https://robscholtemuseum.nl/?s=Patrick+Kreuzer
https://robscholtemuseum.nl/?s=Rudolf+Schundler
https://robscholtemuseum.nl/?s=Rüdiger+Vogler
https://robscholtemuseum.nl/?s=Robby+Müller
https://robscholtemuseum.nl/?s=Axel+Linstädt
https://robscholtemuseum.nl/?s=Kings+of+the+Road
https://robscholtemuseum.nl/?s=Im+Laufe+der+Zeit