‎Malcolm Leigh – Legend of the Witches (1970) 🔹 + Derek Ford – Secret Rites (1971) (Documentary) + The Heartwood institute – Secret Rites
Legend of the Witches

(1970) 🔹
Published 31 Oct 2020 ☠️ British Horror Film Collection
Legend of the Witches is A 1970 British Horror Documentary Film.
A Visual Exploration into the Origins of Witchcraft in the UK and In Particular the Demystification of Symbolism Still Embedded Today within Many Modern Religious Artefacts and Rituals.
United Kingdom, 1970
Take A Titillating Peek at the Secrets and Rituals of A Coven Led by Alex Sanders, the Notorious Wiccan who Called Himself England's "Chief of Witches", in this Scandalous 1969 Cult Classic from Filmmaker Malcolm Leigh.
Reacties
https://ok.ru/video/2353779772110
Secret Rites (1971) (Documentary)
Published 5 March 2023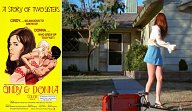 Pseudo Documentary about Black Magic.
Penny Beeching, Shirley Harmer, Lee Peters, Alex Sanders, Jane Spearing, Maxine Sanders
Reacties
https://ok.ru/video/4500504644285
Secret Rites
The Heartwood Institute England, UK
Includes Unlimited Streaming via the Free Bandcamp App, Plus High Quality Download in MP3, FLAC and More.
Record | Vinyl | Digital Album